Luxreisen – Specialist in Orchestra and Choir Tour Management
Both national and international orchestras and choirs value our professional approach to organising their tour travel. For 50 years Luxreisen has provided the performing arts with a complete range of services in travel logistics including air travel, instrument transport, train tickets, bus travel and hotel reservations and have become one of the most experienced, dedicated and reliable experts in this sector.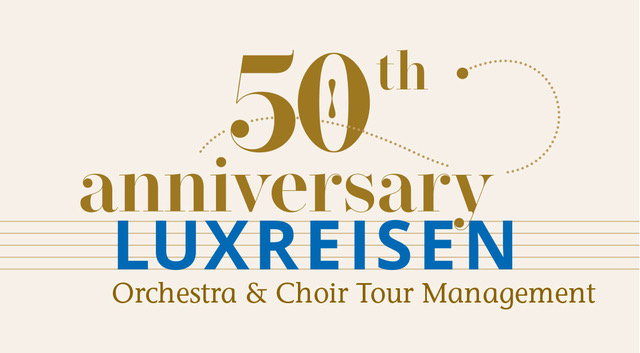 Our Services
Our travel services are as versatile as your requirements
We can organise the whole tour or just take care of the flight reservations. We prepare every tour with precision and place the emphasis on personal contact and support. Our extensive years of experience in the concert travel industry, inside knowledge and expertise always play a major role.
Air Travel
Air Travel solutions, customised to meet both your concert schedule and budget
Long established airline relationships enable us to offer highly competitive rates and longer options
As a IATA Agent we offer a full in house reservation and ticket service
A complete range of charter options depending on your requirements
Full service for special meals and seating plans on board
Competent airport representation for groups including group check-in
Pre-boarding arrangements and VIP treatment for soloists and conductors
Road Travel
Group tickets for worldwide train travel

Organisation of chartered trains (if the scheduled time table does not fit the requirements)
Rental cars, chauffeur driven services, on tour drivers for soloists and conductors
All transfers to and from airports, train stations, hotels, rehearsals and concerts
National and international travel service: flights, transports, transfers and hotels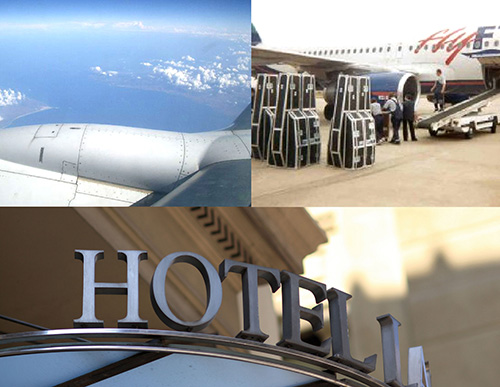 Air Travel
Air Travel solutions, customised to meet both your concert schedule and budget
Long established airline relationships enable us to offer highly competitive rates and longer options
As a IATA Agent we offer a full in house reservation and ticket service
A complete range of charter options depending on your requirements
Full service for special meals and seating plans on board
Competent airport representation for groups including group check-in
Pre-boarding arrangements and VIP treatment for soloists and conductors
Road Travel
Group tickets for worldwide train travel

Organisation of chartered trains (if the scheduled time table does not fit the requirements)
Rental cars, chauffeur driven services, on tour drivers for soloists and conductors
All transfers to and from airports, train stations, hotels, rehearsals and concerts
Before, during and after the tour
Preparation of all necessary visas, entry certificates and insurances

Ideal route coordination, well laid out travel itineraries, detailed information on the countries to be toured
Tour guides and/or multilingual staff on location
Hotel reservations for soloists and maestros as well as for the whole choir or orchestra
Competitive hotel rates due to well established relationships with worldwide hotels and hotel chains
Complete preparation for a comfortable stay
Budget estimates for tour costs
Closing tour statement
Cargo and Instrument Transport
Assistance in applying for and issuing the necessary customs and travel documents (e.g. ATA Carnets, EEC Procedure for Returned Goods, pro-forma invoices for Temporary Import Bonds)

Solutions for oversize luggage and instruments on board for smaller ensembles

Instrument shipping by Air Cargo on regular and chartered services

Wordwide network of specialised freight agents and trucking companies

Our own load manager to supervise the loading and unloading at airports and concert halls

All loading possibilities are taken into consideration to keep the total freight costs as low as possible

Professional Tour Management: including visa application and complete logistical and financial planning

Our References
Just a few of our renowned clients
Bamberger Symphoniker | Bayerisches Staatsorchester | Budapest Festival Orchester | Deutsches Symphonie-Orchester | Gewandhausorchester Leipzig | hr-Sinfonieorchester | London Symphony Orchestra | Lucerne Festival Orchestra | Münchner Philharmoniker | NDR Elbphilharmonie Orchester | Rundfunk-Sinfonieorchester Berlin | WDR Sinfonieorchester
Meet the team
Simply contact one of our experts
Contact Luxreisen
Luxreisen GmbH
Sandkaule 5-7
D - 53111 Bonn
T: +49 228 - 9836 370
F: +49 228 - 9836 379
luxreisen@lux.de
Luxreisen - Specialist in Orchestra and Choir Tour Management
Represented by Managing Director Annette Lux

UID number DE 122122069

Registration number: AG Bonn HRB 9433

© 2021 Luxreisen | Privacy Policy
Luxreisen GmbH
Sandkaule 5-7 · D-53111 Bonn

T: +49 228 9836 370

F: +49 228 9836 379

luxreisen@lux.de